Brontide
by Sue McPherson
$15.00
AUD
Category: Middle Reader
A coming of age story about four boys and their lot in life. Recounted through storytelling sessions at their school over a period of five days, these boys chronicle their lives. They are at times demanding, occasionally rude, always funny and unexpectedly profound. The boys like to challenge themselves and the rules, and soon realise that not everything goes to plan... Set on the coast of south-east Queensland, Brontide is a cleverly crafted coming-of-age text in which four school boys share their stories with a visiting author. Told through a series of recorded interviews, their stories intertwine with sad and tragic twists, as each boy grapples with issues of identity, prejudice and acceptance. Sue McPherson has used conventions of free verse to tell this story, effortlessly combining symbolism to tie a seemingly simple text together, although it is anything but simple in its message. Brontide is a truly absorbing text that is best readwithout knowing too much about it; the author's ability to engage readers and catch them off-guard is breathtaking. Due to the subject matter and language used, it is best suited to a secondary student audience. ...Show more
Catching Teller Crow
by Ambelin Kwaymullina; Ezekiel Kwaymullina
$19.99
AUD
Category: Young Adult
An extraordinary thriller, told from the perspective of two Aboriginal protagonists, which weaves together themes of grief, colonial history, violence, love and family. Nothing's been the same for Beth Teller since she died. Her dad, a detective, is the only one who can see and hear her, and he's drown ing in grief. Only a suspected murder, and a mystery to solve, might save them both. And they have a potential witness: Isobel Catching. Aboriginal by birth, like Beth, she seems lost and isolated in the world. But as the two get closer, Isobel's strange tale of glass-eyed monsters and stolen colours will intertwine with Beth's investigation - and reveal something dark and terrible at the heart of this Australian town . . .   ...Show more
$24.99
AUD
Category: Picture Books | Series: Kimberly Art Centre Ser.
Age range 0 to 9I am Shirley Purdie This is my story Ngayin-ga Birrmarriyan-nga Berrembi jarragbe ngaginybe.  My mother shows me how to get bushtucker and she shows me how to paint. Now I'm a famous artist.  My paintings are all over the world hanging in important places. Happy times. Told in English an d Gija, this is the story of Shirley Purdie, famous Gija artist, as told through her paintings, as part of the Ngaalim-Ngalimboorro Ngagenybe exhibition created for the 2018 National Portrait Gallery exhibition So Fine: Contemporary women artists make Australian history. The exhibition will be rehung, in Gallery 1, to coincide with the launch of My Story, along with a series of cultural engagement activities based on My Story. This is the first book in the Kimberley Art Centre Series. The series focuses on developing the skills of Kimberley Aboriginal artists in children's picture book storytelling and illustration.  ...Show more
$19.99
AUD
Category: Middle Reader
A young Aboriginal girl is taken from the north of Australia and sent to an institution in the distant south. There, she slowly makes a new life for herself and, in the face of tragedy, finds strength in new friendships. Poignantly told from the child s perspective, Sister Heart affirms the power of fam ily and kinship. This compelling novel about the stolen generations helps teachers sensitively introduce into the classroom one of world s most confronting histories." ...Show more
$17.99
AUD
Category: Picture Books
Since its publication in 1987, Sally Morgan's My Place has sold more than half a million copies in Australia, been translated and read all over the world, and been reprinted dozens of times. Sally's rich, zesty and moving work is perhaps the best loved biography of Aboriginal Australia ever written. My Place for Younger Readers is an abridged edition that retains all the charm and power of the original. ...Show more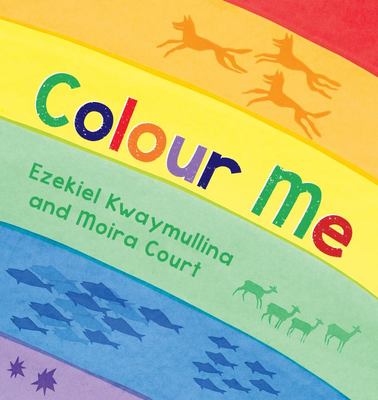 Colour Me
by Ezekiel Kwaymullina
$16.99
AUD
Category: Picture Books
Using the rainbow as a metaphor for our diversity and uniqueness, Indigenous author Ezekiel Kwaymullina joins forces with award-winning illustrator Moira Court in this gorgeous new picture book. Luminous screen prints and evocative prose celebrate every individual color as well as the power of their com bination. ...Show more
$14.99
AUD
Category: Picture Books
From a falling star to a lonely whale, an entertaining lizard to an enterprising penguin, these Indigenous stories are full of wonder, adventure and enduring friendships. Told in the style of traditional teaching stories, these animal tales take young readers on adventures of self-discovery and fulfilme nt. ...Show more
Found (HB)
by Bruce Pascoe; Charmaine Ledden-Lewis (Illustrator)
$24.99
AUD
Category: Picture Books
This gentle story set in the rugged Australian bush is about a small calf who becomes separated from his family. The little calf is alone and simply wants his mother, sisters and brothers. He can see other animals, and after running to the river, manages to ask some horses if they are his family. The ca lf's family have been taken away in the back of a noisy truck. So begins the little calf's journey to find his family. In Found we share the calf's point of view in an evocative story, accompanied by stunning illustrations. ...Show more
$16.99
AUD
Category: Early Reader | Series: My Australian Story
I woke up this morning and I couldn't stop crying, cos this place is not my home, even though everyone says it is. When I was a little girl Mum would always hug me when I cried and tell me everything would be all right. Who's gunna hug me here? Mary lives with the Burkes, but they're not her real family . She hasn't seen her real mum and dad since she was taken away from them five years ago. Everyone tells her to forget about them, but she can't. She wants to find out why she was taken, and where she really belongs. ...Show more
Rocky and Louie
by Phillip Walleystack; Raewyn Caisley; Dub Leffler (Illustrator)
$24.99
AUD
Category: Picture Books
Louie's big brother, Rocky, has big dreams and wants to chase them. But Louie doesn't want him to forget where he belongs . . . A heartfelt story about the bond between two brothers and their special connection to country. Illustrated by CBCA award-winning picture-book creator Dub Leffler, and written b y acclaimed singer/storyteller Phil Walleystack and award-winning children's author Raewyn Caisley. ...Show more
Sorry Day
by Coral Vass; Dub Leffler (Illustrator)
$17.99
AUD
Category: Picture Books
There was a hum of excitement. Flags flickered in the breeze as Maggie's heart danced with delight. 'This is a very special day!' her mother said. Maggie holds tight to her mother as they await the long anticipated apology to show a willingness to reconcile the past for future generations. In the excite ment of the crowd Maggie loses touch of her mother's hand as is lost. In a time 'long ago and not so long ago' children were taken from their parents, their 'sorrow echoing across the land'. As the Prime Minister's speech unfolds Maggie is reunited with her mother. But the faces and memories of the stolen generation are all around them. Two stories entwine in this captivating retelling of the momentous day when the then Prime Minister of Australia, Kevin Rudd, acknowledged the sorrows of past and said 'Sorry' to the generation of children who were taken from their homes. The book includes a foreword from Lee Joachim; Chair of Rumbalara Aboriginal Cooperative and Director of Research and Development for Yorta Yorta Nation Aboriginal Corporation. ...Show more
My Country (Board Book)
by Ezekiel Kwaymullina; Sally Morgan (Illustrator)
$14.99
AUD
Category: Board Books
Best-selling author and internationally renowned painter Sally Morgan teams up with Ezekiel Kwaymullina for a picture book celebrating country.