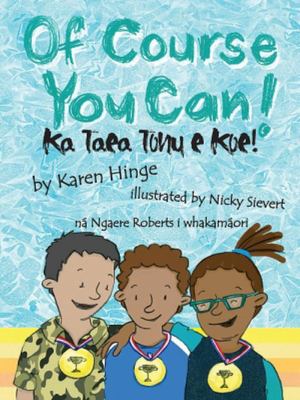 $29.95
AUD
Category: Picture Books
Jeremy is starting a new school. He is a bit nervous and a lot worried but the children in this class are welcoming. Every time he thinks he can't take part they say 'Of course you can!' and so he plays soccer, joins in the Kapa Haka and even takes part in the cross country . . . But when it comes to sw imming the children tell him not to do it. ...Show more
$16.99
AUD
Category: Picture Books
Theres a bear in the window of the house across the street. Its tall and round, with great big feet! I wonder what I would see; if I were that bear, and that bear were me? From singer-songwriter June Pitman-Hayes comes a story and beautiful waiata in both English and Maori that celebrates the great tedd y bear hunt, that entertained thousands of children during lockdown in 2020. For fans of the best-selling Kia Ora you can be a Kiwi too and Kia Kaha! ...Show more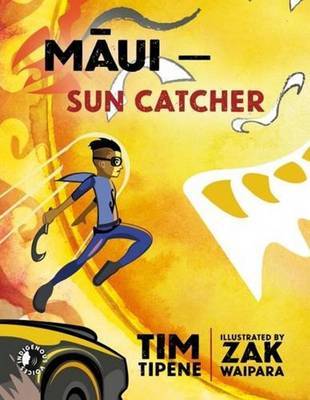 $28.95
AUD
Category: Picture Books
The modern Maui is an intermediate-school boy who lives with his Mum and three older brothers in a city where the day is never long enough to get things done. Maui grasps the mantle: Mum, I'm gonna catch that Sun for you. That Sun who's always on the run. With their woven flax net, the brothers drive to the pit where the Sun lives, and make their play to slow the day. This bilingual book, in English and Maori, brings Maui into the 21st century in a fun and colourful retelling - the first in the international Indigenous Voices series. ...Show more
$21.95
AUD
Category: Picture Books | Series: Pūrākau o Aotearoa
Donovan Bixley re-tells the story of HOW Māui slowed the journey of the sun through the sky each day! The traditional tale but with Donovan's unique twist and trademark humour. The pictures are bright and bring their own level of humour to the book. Darryn Joseph ensures that the story is accurate and c ulturally appropriate and translates, along with Keri Opai, the story for the Te Reo edition. ...Show more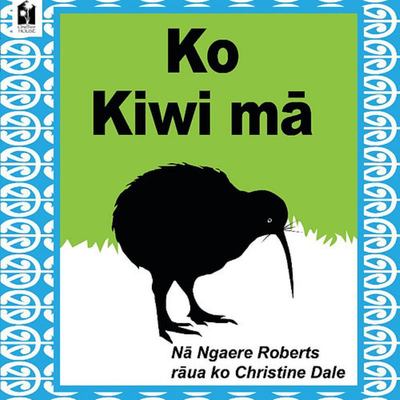 Ko Kiwi Ma
by Christine Dale; Ngaere Roberts
$19.95
AUD
Category: Picture Books
Written in Te Reo Maori with images of New Zealand flora and fauna, accompanied by a brief sentence using the word. Designed to help babies through to younger children to focus and recognise word shapes and phrases. Research has proven that high contrast images are an aid to quietening the mind and sti mulating neural links, for babies and toddlers. These sturdy little editions can be used in classrooms and homes for early language learning in Te Reo Maori. ...Show more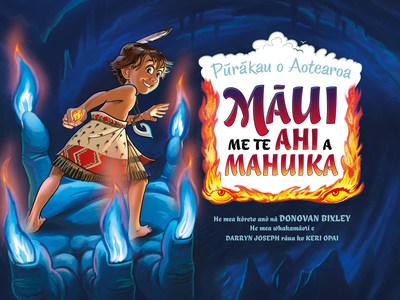 $21.95
AUD
Category: Picture Books | Series: Pūrākau o Aotearoa
Donovan Bixley re-tells the story of how Maui captured the secret of fire. The traditional tale but with Donovan's unique twist and trademark humour. The pictures are bright and bring their own level of humour to the book. Darryn Joseph and Keri Opai ensure that the story is accurate and culturally appr opriate and translate the story for the Te Reo edition. ...Show more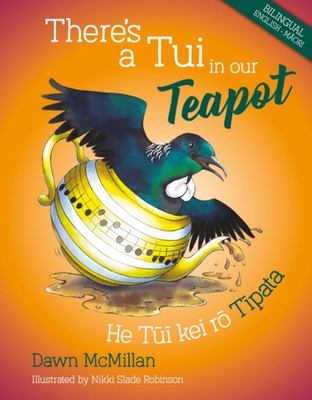 $28.95
AUD
Category: Picture Books
Bilingual Te Reo Maori / English There's a tui in our teapot. He's looking out at me. A tui in the teapot? Yes ... he wants a cup of tea! A tui and his various friends including takahe, kea, korimako (bellbird), pukeko and hoiho (yellow-eyed penguin) invade the family kitchen, getting up to all kinds of high jinks and making a tremendous mess! What will Nan say when she sees what the hilarious gang of mischievous birds have done to her kitchen? ...Show more
$21.95
AUD
Category: Picture Books
In the third of his Maui books, Donovan Bixley re-tells the story of how Maui captured the secret of fire. The traditional tale but with Donovan's unique twist and trademark humour. The pictures are bright and bring their own level of humour to the book.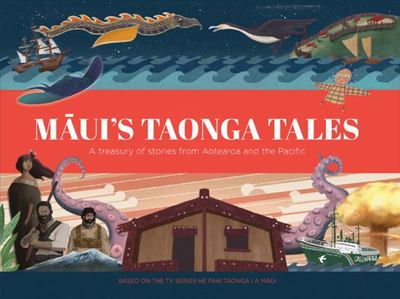 Maui's Taonga Tales
by David Brechin-Smith; Stephanie Tibble
$32.95
AUD
Category: Picture Books | Series: Maui's Taonga Tales
Aimed at children aged seven to eleven, this book's lively stories tell the tales of some of the taonga held at Aotearoa New Zealand's famous national museum, Te Papa, through appealing text and fantastic illustrations.  The book's pūkōrero, or story teller, is Māui, the great Pacific hero and trickster . The stories are from both long ago and recent times and have been chosen in consultation with Te Papa's mātauranga Māori curators and the relevant iwi. They range from how Ruhia's kaitaka, or cloak, saved the life of a young boy and why the band Herbs wrote a song about nuclear testing in the Pacific to Huria Matenga and the Shipwreck, Rata and the Children of Tane, Willie Apiata and the Tough Decision, Hinemoa and Tutanekai, Te Paea and the Ghost Waka, Kahe's Epic Swim, Heni and the Battle of Gate Pa, Kupe and the Giant Wheke, and Tane and the Kete of Knowledge. Each story is told via illustrations created by young Māori artists; some have illustrated stories from their own iwi. The book is linked to the TV series He Paki Taonga i a Māui, funded by Te Mangai Paho. Also avaiable in Te Reo Maori as He Paki Taonga i a Māui. ...Show more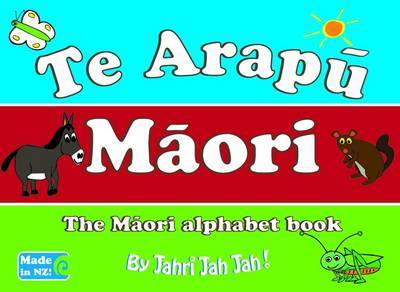 $26.95
AUD
Category: Picture Books
A bright Maori alphabet book with Maori vocabulary.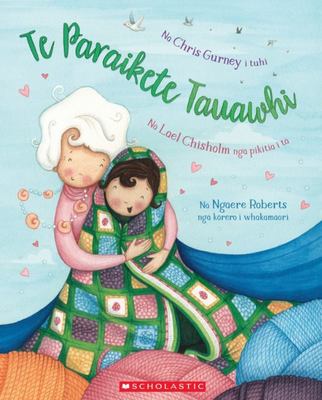 $19.99
AUD
Category: Picture Books
It smells like sunshine. It sounds like whispers. It looks like rainbows...It feels like love. Nana made hug blankets for all her family. Each one was special. We love our Nana. "A joyful story of whānau, love and loss, but above all else, love"
$13.99
AUD
Category: Picture Books
Maori-language champion Stacey Morrison has translated Little Kiwi's bestselling lift-the-flap pukapuka! Kua tae ki te wa e moe ai a Kiwi Pakupaku, engari kei hea ia? Whaia tana Kokara, ka kimi haere i a ia i te ngahere o Aotearoa. A favourite lift-the-flap adventure in the eternally popular Little Ki wi series of storybooks, now available in te reo Maori. Kua tuhi pakiwaituhi a Bob Darroch mo te nuinga o tona oranga. Kua whakamahia ana mahi toi mo nga taputapu takaro, nga tapaepae, nga manatunga, kari whakaahua, niupepa me nga moheni, puta noa i te ao. No te tau 1999 i timata ai tana tuhi pukapuka ma nga tamariki. No te tau 2001 ka puta mai te tuatahi o ana pukapuka Kiwi Pakupaku, a, neke atu i te tekau pukapuka kua whai mai. I te tau 2015 ka whakawhiwhia a Bob ki te Storylines Gaelyn Gordon Award for a Much-loved book, mo Little Kiwi is Scared of the Dark. Kei Temuka, Arowhenua a Bob raua ko tana hoa wahine a Ruth e noho ana. Na Stacey Morrison i whakamaori, he pai nga pukapuka Kiwi Pakupaku ki ana tamariki tokotoru. ...Show more