Fluke Book Small Ruled Notebook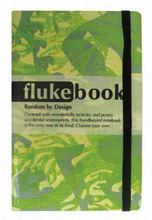 Stock information
: $16

.99

(AUD)

: Tara Publishing
:
: .6 Inches X 3.8 Inches X 5.8 Inches
:
: 0.14
: 9788186211663
: 19.99
: Tara Publishing
: September 2008
: stationery
9788186211663
Description
A notebook that is as unique on the outside as whatever you choose to scribble on the inside. Covered with a colorful fusion of prints, stitched and bound by hand, each flukebook is an undeniable original.
An offshoot of Tara's line of handcrafted books, every flukebook is covered with a distinctive screen-printed test page, created during our bookmaking process. We couldn't bear the thought of discarding these vibrant, unforeseeable sheets. So instead--in the spirit of recycling--we decided to use these accidental artworks as creative covers for notebooks.
Each cover is stamped "Edition 1 of 1," and it's true: you'll never find a flukebook quite like another--they're impossible to reproduce Also available in a fifteen-copy prepack.