$23.99
AUD
Category: Middle Reader | Series: The Wingfeather Saga
Now in hardcover for the first time, featuring all-new illustrations! Once, in a cottage above the cliffs on the Dark Sea of Darkness, there lived three children and their trusty dog, Nugget. Janner Igiby, his brother, Tink, and their disabled sister, Leeli, are gifted children as all children are, lov ed well by a noble mother and ex-pirate grandfather. But they will need all their gifts and all that they love to survive the evil pursuit of the venomous Fangs of Dang, who have crossed the dark sea to rule the land with malice. The Igibys hold the secret to the lost legend and jewels of good King Wingfeather of the Shining Isle of Anniera. Full of characters rich in heart, smarts, and courage, On the Edge of the Dark Sea of Darkness is a tale children of all ages will cherish, families can read aloud, and readers' groups are sure to enjoy discussing for its many layers of meaning. Extra features include new interior illustrations from Joe Sutphin, funny footnotes, a map of the fantastical world, inventive appendices, and fanciful line art in the tradition of the original Frank L. Baum Wizard of Oz storybooks. ...Show more
$14.99
AUD
Category: Middle Reader
Introverted Bicycle has lived most of her life at the Mostly Silent Monastery in Washington, D.C. When her guardian, Sister Wanda, announces that Bicycle is going to attend a camp where she will learn to make friends, Bicycle says no way and sets off on her bike for San Francisco to meet her idol, a fam ous cyclist, certain he will be her first true friend. Who knew that a ghost would haunt her handlebars and that she would have to contend with bike-hating dogs, a bike-loving horse, bike-crushing pigs, and a mysterious lady dressed in black. Over the uphills and downhills of her journey, Bicycle discovers that friends are not such a bad thing to have after all, and that a dozen cookies really can solve most problems. A Junior Library Guild Selection! ...Show more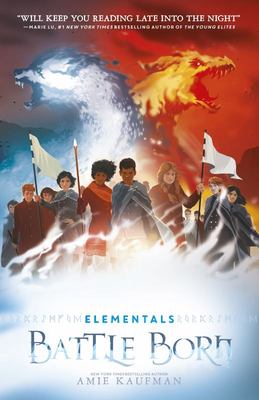 $17.99
AUD
Category: Middle Reader | Series: Elementals Ser.
Though Anders and his friends have delayed a war between ice wolves and scorch dragons, their mission is far from over. With adults on both sides looking for them, they've sought refuge in Cloudhaven, a forbidden stronghold that could hold the key to saving their home.Meanwhile, Holbard has been ravaged , and its citizens are reeling. Many have been forced into bleak camps outside the city, and food is running short.To rebuild Vallen and unite scorch dragons, ice wolves, and humans, Anders and Rayna must put everything on the line…before the damage done is beyond repair. But the price of peace may hit closer to home than they could've ever imagined. ...Show more
$16.99
AUD
Category: Middle Reader
Who are you? What is racism? Where does it come from? Why does it exist? What can you do to disrupt it? Learn about social identities, the history of racism and resistance against it, and how you can use your anti-racist lens and voice to move the world toward equity and liberation. "In a racist socie ty, it's not enough to be non-racist--we must be ANTI-RACIST." --Angela Davis Gain a deeper understanding of your anti-racist self as you progress through 20 chapters that spark introspection, reveal the origins of racism that we are still experiencing, and give you the courage and power to undo it. Each chapter builds on the previous one as you learn more about yourself and racial oppression. Exercise prompts get you thinking and help you grow with the knowledge. Author Tiffany Jewell, an anti-bias, anti-racist educator and activist, builds solidarity beginning with the language she chooses--using gender neutral words to honor everyone who reads the book. Illustrator Aurélia Durand brings the stories and characters to life with kaleidoscopic vibrancy. After examining the concepts of social identity, race, ethnicity, and racism, learn about some of the ways people of different races have been oppressed, from indigenous Americans and Australians being sent to boarding school to be "civilized" to a generation of Caribbean immigrants once welcomed to the UK being threatened with deportation by strict immigration laws. Find hope in stories of strength, love, joy, and revolution that are part of our history, too, with such figures as the former slave Toussaint Louverture, who led a rebellion against white planters that eventually led to Haiti's independence, and Yuri Kochiyama, who, after spending time in an internment camp for Japanese Americans during WWII, dedicated her life to supporting political prisoners and advocating reparations for those wrongfully interned. This book is written for EVERYONE who lives in this racialized society--including the young person who doesn't know how to speak up to the racist adults in their life, the kid who has lost themself at times trying to fit into the dominant culture, the children who have been harmed (physically and emotionally) because no one stood up for them or they couldn't stand up for themselves, and also for their families, teachers, and administrators. With this book, be empowered to actively defy racism to create a community (large and small) that truly honors everyone. ...Show more
$16.99
AUD
Category: Middle Reader
Hattie Maxwell is trying to make sense of her life since the Big Split. It used to be the four of them - Mum, Dad, Ivy and Hattie - against the universe. But now it feels like she's a lone star in a big galaxy. And to make matters worse, her favourite place, Hummingbird House, is going to be demolished! Determined to stop the development, Hattie throws herself into uncovering the secrets of the house. Under a special full moon, she discovers that there is much more to the grand old mansion than first meets the eye... But will it be enough to save Hummingbird House? Or her family? A classic time-slip novel with a contemporary twist, THE SECRET LIBRARY OF HUMMINGBIRD HOUSE celebrates standing up for what you believe in, dealing with change and the unstoppable power of friendship. ...Show more
$14.99
AUD
Category: Middle Reader
'So good I read it twice' - Hilary McKay, author of The Skylarks' War'This thrilling time-slip adventure oozes magic and heart' - Bookseller EDITOR'S CHOICEWhen Charlie's longed-for brother is born with a serious heart condition, Charlie's world is turned upside down. Upset and afraid, Charlie flees the hospital and makes for the ancient forest on the edge of town. There Charlie finds a boy floating face-down in the stream, injured, but alive. But when Charlie sets off back to the hospital to fetch help, it seems the forest has changed. It's become a place as strange and wild as the boy dressed in deerskins. For Charlie has unwittingly fled into the Stone Age, with no way to help the boy or return to the present day. Or is there?What follows is a wild, big-hearted adventure as Charlie and the Stone Age boy set out together to find what they have lost - their courage, their hope, their family and their way home.Fans of Piers Torday and Stig of the Dump will love this wild, wise and heartfelt debut adventure. ...Show more
$16.99
AUD
Category: Middle Reader
'It's one of them days when everything is off. A hot sweaty night in Rusty Bus means we kids is all grouchy-tired. Me and my best friend, Jaguar, is trying to cool down by taking turns at dipping in the sea pool. Him standing on the sea wall made from car frames and rocks on lookout for crocs, me swimmi ng, then we'll swap places. We's always doing things as a team, him and me. We's gonna be the best fisher people and the best salvagers on the whole of the inland sea one day.' Neoma and Jag and their small community are 'living gentle lives' on high ground surrounded by the risen sea that has caused widespread devastation. When strangers from the Valley of the Sun arrive unannounced, the friends find themselves drawn into a web of secrecy and lies that endangers the way of life of their entire community. Soon daring, loyal Neoma must set off on a solo mission across the risen sea, determined to rescue her best friend and find the truth that will save her village. Across the Risen Sea is another thrilling adventure for young readers from the bestselling author of How to Bee and The Dog Runner. ...Show more
$17.99
AUD
Category: Middle Reader | Reading Level: Younger Readers
This coming-of-age story by multiple-award-winner Meg McKinlay is about loss and grief, dealing with change and fighting to hold on to what you can, while letting go of what you can't. It's 1979 and the sky is falling. Skylab, that is. Somewhere high above Frankie Avery, one of the world's first space s tations is tumbling to Earth. And rushing back with it are old memories. Things twelve-year-old Frankie thought she'd forgotten. Things her mum won't talk about, and which her little brother Newt never knew. Only ... did he? Does he? Because as Skylab circles closer, Newt starts acting strangely. And while the world watches the sky, Frankie keeps her own eyes on Newt. Because if anyone's going to keep him safe, it's her. It always has been. But maybe this is something bigger than splinters and spiders and sleepwalking. Maybe a space station isn't the only thing heading straight for calamity. ...Show more
$19.99
AUD
Category: Middle Reader
Henry Khoo's family treats him like a baby. He's not allowed to go anywhere without his sister/chaperone/bodyguard. His (former) best friend knows to expect his family's mafia-style interrogation when Henry's actually allowed to hang out at her house. And he definitely CAN'T take a journey halfway aroun d the world all by himself! But that's exactly his plan. After his family's annual trip to visit his father in Singapore is cancelled, Henry decides he doesn't want to be cooped up at home with his overprotective family and BFF turned NRFF (Not Really Friend Forever). Plus, he's hiding a your-life-is-over-if-you're-caught secret: he's the creator of an anonymous gossip cartoon, and he's on the verge of getting caught. Determined to prove his independence and avoid punishment for his crimes, Henry embarks on the greatest adventure ever . . . hoping it won't turn into the greatest disaster ever. Remy Lai takes readers on an adventure filled with humour, heart, and hijinks that's a sure bet for fans of Jerry Craft, Terri Libenson, and Shannon Hale! ...Show more
$14.99
AUD
Category: Middle Reader | Series: Skulduggery Pleasant | Reading Level: 11+
Meet Skulduggery Pleasant: detective, sorcerer, warrior. Oh yeah. And dead. Stephanie's uncle Gordon is a writer of horror fiction. But when he dies and leaves her his estate, Stephanie learns that while he may have written horror, it certainly wasn't fiction. Pursued by evil forces intent on recovering a mysterious key, Stephanie finds help from an unusual source - the wisecracking skeleton of a dead wizard. When all hell breaks loose, it's lucky for Skulduggery that he's already dead. Though he's about to discover that being a skeleton doesn't stop you from being tortured, if the torturer is determined enough. And if there's anything Skulduggery hates, it's torture... Will evil win the day? Will Stephanie and Skulduggery stop bickering long enough to stop it? One thing's for sure: evil won't know what's hit it. ...Show more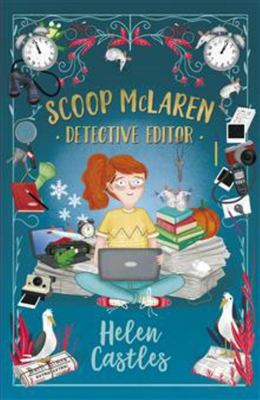 $14.99
AUD
Category: Middle Reader | Series: Scoop Mclaren Ser.
Age range 9+ years What do you do when an evil REPORTER wreaks havoc in a quiet coastal town? Sonny Fink writes online news that is uploaded at one minute past midnight every night. The news is always frightfully awful and if Sonny writes it, it is bound to happen! Thirteen-year-old detective and report er, Scoop McLaren and her best friend, Evie set on a mission to discover everything about this mysterious Sonny Fink... ...Show more
Tricky Nick
by Nicholas J. Johnson
$14.99
AUD
Category: Middle Reader
Have you ever noticed a duck gliding across a pond? It looks so relaxed, like it's just hanging out, enjoying its day. But what you don't see is that the duck has to paddle like crazy under the surface of the water. That's what magicians do: paddle like crazy under the surface.Welcome to the wonderful w orld of magic. Are you ready for a world of intrigue and secrets? For this is the completely true, not-at-all-made-up story of how ten-year-old Nick discovered magic - from his very first coin trick to the encounter with a mysterious girl called Trixie who changed his life forever. There may be some stretching of the truth, a little time travel, quite a few baddies and heroes, all mixed with heaps of humour, heart, magic tricks and adventure. ...Show more