$19.99
AUD
Category: Middle Reader | Series: The Fowl Twins
The second book in the blockbusting new series from the bestselling author of Artemis Fowl. The second Fowl Twins adventure starts with a bang – literally. Artemis's little brothers Myles and Beckett borrow the Fowl jet without permission, and it ends up as a fireball over Florida. The twins plus their fairy minder, the pixie-elf hybrid Lazuli Heitz, are lucky to escape with their lives. The Fowl parents and fairy police force decide that enough is enough and the twins are placed under house arrest. But Myles has questions, like: who was tracking the Fowl jet? Why would someone want to blow them out of the sky? These questions must infuriate someone, because Myles is abducted and spirited away from his twin.Now Beckett and Lazuli must collaborate to find Myles and rescue him – not easy when it was Myles who was the brains of the operation. Their chase will take them across continents, deep underground, and into subaquatic super villain lairs. They will be shot at, covered in spit, and at the receiving end of some quite nasty dwarf sarcasm. But will Beckett be able to come up with a genius plan without a genius on hand…? ...Show more
$16.99
AUD
Category: Middle Reader
Tamarind never knew her Indian mum, Chinty, who died soon after she was born. So when she arrives at her mother's ancestral home, she's full of questions for her extended family. But instead of answers, Tamarind finds a sad and beautiful mystery...
$19.99
AUD
Category: Middle Reader
THE POWERFUL NEW NOVEL FROM AWARD-WINNING AUSTRALIAN WRITER KATRINA NANNESTAD Sometimes it's good to be wild. Sometimes you have to be wild. When the Russian Army marches into East Prussia at the end of the war, the Wolf family must flee. Liesl, Otto and their baby sister Mia find themselves lost and al one, in a blizzard, in the middle of a war zone. Liesl has promised Mama that she will keep her brother and sister safe. But sometimes, to survive, you have to do bad things. Dangerous things. Wild things. Sometimes to survive, you must become a wolf. Bestselling author Katrina Nannestad returns with her most masterful novel yet - a book to crack open your heart, a book to light you up inside, a book to love. ...Show more
$16.99
AUD
Category: Middle Reader
A girl who transforms into a dog, a magic puppet show with the power to change lives, and a story about the mysteries of the imagination from Ursula Dubosarsky, the Australian Children's Laureate. Lara had always wished she was a dog, and one day, just for a short time, she actually became one. This is how it happened.In a mulberry brick house on the harbour that Lara explores while her mother cleans, Lara meets Pierre, a boy about her age with a beautiful antique puppet theatre. With his puppets, he tells her a story about a boy whose family has been eaten by wolves. The boy is lost. He needs to find his grandmother. Lara takes the part of a dog, but suddenly she can no longer tell where she ends and Dog begins. Or is she Wolf? Caught up in Pierre's story, Lara has to fight to protect her identity - and her new friend. Can she help Pierre find his way home?Pierre's Not There is a lyrical, captivating and imaginative story that can be read on many levels.   ...Show more
$19.99
AUD
Category: Middle Reader
Pearl and Vally Cole live in a bookshop. And not just any bookshop. In 1893, Cole's Book Arcade in Melbourne is the grandest bookshop in the world, brimming with every curiosity imaginable. Each day brings fresh delights for the siblings: voice-changing sweets, talking parrots, a new story written just for them by their eccentric father. When Pearl and Vally learn that Pa has risked the Arcade – and himself – in a shocking deal with the mysterious Obscurosmith, the siblings hatch a plan. Soon they are swept into a dangerous game with impossibly high stakes: defeat seven challenges by the stroke of midnight and both the Arcade and their father will be restored. But if they fail, Pearl and Vally won't just lose Pa – they'll forget that he and the Arcade ever existed. ...Show more
$26.99
AUD
Category: Middle Reader | Series: A Tale of Magic
The enchanting sequel to the No. 1 New York Times bestseller A Tale of Magic, from the author of The Land of Stories. Brystal Evergreen changed the world, but the journey is just beginning ... Brystal Evergreen and her friends have saved the world from the evil Snow Queen and secured worldwide accepta nce for the magical community. However, when a mysterious new witch named Mistress Mara arrives at the Academy, the celebrations are cut short. As Mistress Mara begins recruiting faeries into her rival school of Witchcraft, it becomes clear she has dark intentions. And soon Brystal's friend Lucy becomes embroiled in an ominous plot against mankind. Elsewhere, the fragile peace is on the brink of shattering. Outrage has spread throughout the kingdoms in opposition to the legalisation of magic. And a dangerous and centuries old clan known as the Righteous Brotherhood has resurfaced, with one goal in mind: to exterminate all magical life for ever ... starting with Brystal ... Filled with brand-new adventures and a cast of memorable characters, both familiar and new, Chris Colfer's writing will sweep you away into a world of magic and wonder. ...Show more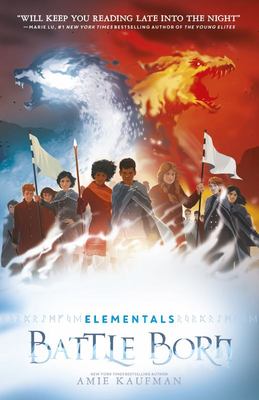 $17.99
AUD
Category: Middle Reader | Series: Elementals Ser.
Though Anders and his friends have delayed a war between ice wolves and scorch dragons, their mission is far from over. With adults on both sides looking for them, they've sought refuge in Cloudhaven, a forbidden stronghold that could hold the key to saving their home.Meanwhile, Holbard has been ravaged , and its citizens are reeling. Many have been forced into bleak camps outside the city, and food is running short.To rebuild Vallen and unite scorch dragons, ice wolves, and humans, Anders and Rayna must put everything on the line…before the damage done is beyond repair. But the price of peace may hit closer to home than they could've ever imagined. ...Show more
$16.99
AUD
Category: Middle Reader
Who are you? What is racism? Where does it come from? Why does it exist? What can you do to disrupt it? Learn about social identities, the history of racism and resistance against it, and how you can use your anti-racist lens and voice to move the world toward equity and liberation. "In a racist society , it's not enough to be non-racist--we must be ANTI-RACIST." --Angela Davis Gain a deeper understanding of your anti-racist self as you progress through 20 chapters that spark introspection, reveal the origins of racism that we are still experiencing, and give you the courage and power to undo it. Each chapter builds on the previous one as you learn more about yourself and racial oppression. Exercise prompts get you thinking and help you grow with the knowledge. Author Tiffany Jewell, an anti-bias, anti-racist educator and activist, builds solidarity beginning with the language she chooses--using gender neutral words to honor everyone who reads the book. Illustrator Aurélia Durand brings the stories and characters to life with kaleidoscopic vibrancy. After examining the concepts of social identity, race, ethnicity, and racism, learn about some of the ways people of different races have been oppressed, from indigenous Americans and Australians being sent to boarding school to be "civilized" to a generation of Caribbean immigrants once welcomed to the UK being threatened with deportation by strict immigration laws. Find hope in stories of strength, love, joy, and revolution that are part of our history, too, with such figures as the former slave Toussaint Louverture, who led a rebellion against white planters that eventually led to Haiti's independence, and Yuri Kochiyama, who, after spending time in an internment camp for Japanese Americans during WWII, dedicated her life to supporting political prisoners and advocating reparations for those wrongfully interned. This book is written for EVERYONE who lives in this racialized society--including the young person who doesn't know how to speak up to the racist adults in their life, the kid who has lost themself at times trying to fit into the dominant culture, the children who have been harmed (physically and emotionally) because no one stood up for them or they couldn't stand up for themselves, and also for their families, teachers, and administrators. With this book, be empowered to actively defy racism to create a community (large and small) that truly honors everyone. ...Show more
$16.99
AUD
Category: Middle Reader
Hattie Maxwell is trying to make sense of her life since the Big Split. It used to be the four of them - Mum, Dad, Ivy and Hattie - against the universe. But now it feels like she's a lone star in a big galaxy. And to make matters worse, her favourite place, Hummingbird House, is going to be demolished! Determined to stop the development, Hattie throws herself into uncovering the secrets of the house. Under a special full moon, she discovers that there is much more to the grand old mansion than first meets the eye... But will it be enough to save Hummingbird House? Or her family? A classic time-slip novel with a contemporary twist, THE SECRET LIBRARY OF HUMMINGBIRD HOUSE celebrates standing up for what you believe in, dealing with change and the unstoppable power of friendship. ...Show more
$15.99
AUD
Category: Middle Reader | Series: Ninja Kid Ser.
Grandma has invented the COOLEST thing evera GLOVE that can bring toys to life! But when the glove is stolen, Nelson and Kenny have to find a way to get it back... before a CRAZY TOY ARMY takes over the WHOLE TOWN!
$16.99
AUD
Category: Middle Reader | Series: Five Nights at Freddy's Ser.
When left in darkness, rage festers. Years of frustration with his family culminate in a loathsome vacation for Bob, who plots a sinister prank to frighten his wife and kids. Matt redirects the residual anger over his many failed relationships into a video game, and ends up birthing the horrible consequ ences. In room 1280 of Heracles Hospital, something evil is keeping a man alive, a man with gruesome burns all over his body and an iron will to live. In this fifth volume, Five Nights at Freddy's creator Scott Cawthon spins three sinister novella-length stories from different corners of his series' canon, featuring cover art from fan-favorite artist LadyFiszi. Readers beware: This collection of terrifying tales is enough to unsettle even the most hardened Five Nights at Freddy's fans. ...Show more
$16.99
AUD
Category: Middle Reader | Series: Five Nights at Freddy's
Five Nights at Freddy's fans won't want to miss this pulse-pounding collection of three novella-length tales that will keep even the bravest FNAF player up at night...Isolation can open up a void. Pete lashes out at his younger brother in the wake of his parents' divorce, falling prey to a gruesome curs e. Kasey struggles with the lengths she'll go to survive on the streets after stealing a pair of unusual novelty glasses. Samantha and her sister, Susie, struggle to exist side by side, desperate to connect after a horrific tragedy. But in the grim world of Five Nights at Freddy's, empty feelings often attract hungry monsters...   In this fourth volume, Five Nights at Freddy's creator Scott Cawthon spins three sinister novella-length stories from different corners of his series' canon, featuring cover art from fan-favorite artist LadyFiszi.   Readers beware: This collection of terrifying tales is enough to unsettle even the most hardened Five Nights at Freddy's fans. ...Show more